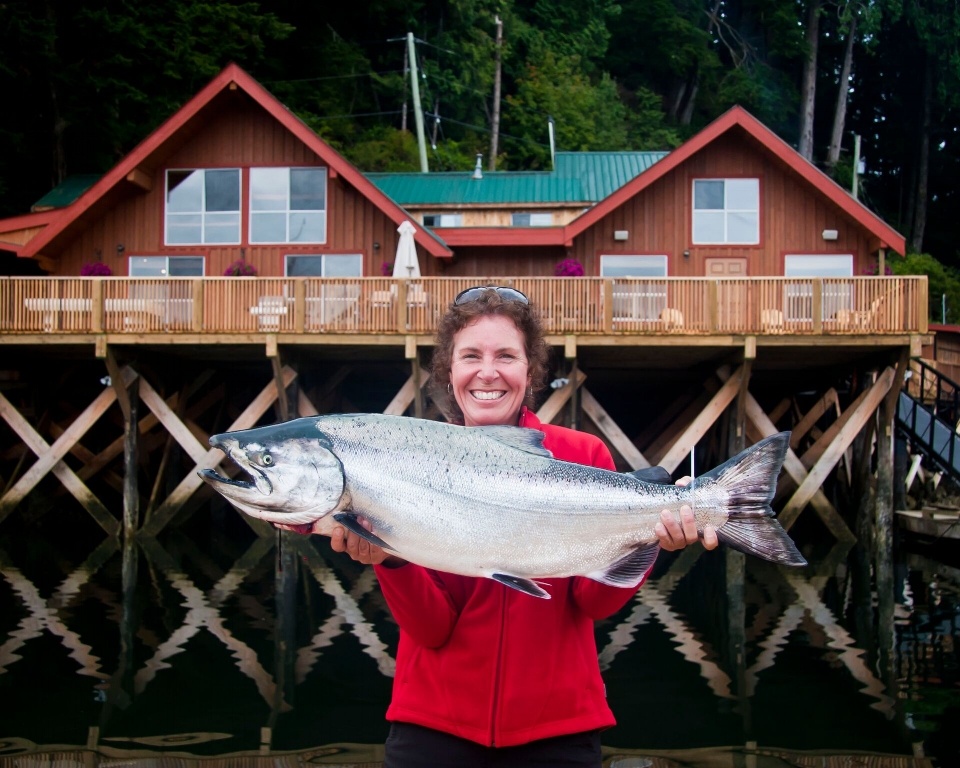 Chinook Salmon BC Fishing
Chinook Salmon or a King Salmon held up in front of Walters Cove Resort. Best Vancouver Island fishing. BC fishing lodge. Best fishing location. Halibut fishing. First Nations tourism. Fishing resort.
Ling Cod at Walters Cove Resort
Ling Cod fishing at the best fishing lodge in BC
Where to fish in Vancouver Island
Vancouver island fishing lodge. Best salmon fishing on the island!
Sunrise on the dock BC fishing lodge
Vancouver island fishing charters west coast
Salmon fishing on Vancouver Island
BC fishing lodge where to fish in BC
BC fishing resort. Awesome west coast fishing.
Wildlife at our west coast fishing lodge
West coast fishing lodge. Wildlife experience.
Best Salmon fishing bottom fishing rock cod ling cod
Ling Cod. Rock Cod. Bottom fishing. Fishing charters.
First Nations Traditionally prepared Salmon
First nations cultural experience. West coast fishing lodge
salmon bbq best fishing in bc west coast
First Nations owned lodge giving an Aboriginal cultural experience on the West Coast of BC.
tuna fishing charter west coast bc
Tuna fishing out of our BC Fishing Lodge.
Salmon charter family trips
Our lodge is perfect for families and wives to enjoy as well! No matter the level of Angler there is something fun to do at Walters Cove Resort.
Remote fishing lodge in Vancouver Island. Best place to fish on the West Coast.
Beach BBQ and tablecloth dinner
Fishing Resort with amazing food from a Red Seal Chef!
Luxury fishing resort. West Coast of BC.
Big Chinook. Kyuquot, BC. Vancouver Island fishing lodge.
Staff greeting at our Luxury Resort
First Nations tourism fishing resort.
British Columbia fishing lodges
Cozy interior with delicious meals and lots of laughs. Offering the best food and best fishing on the West Coast.
Red seal chef. Luxury Fishing Resort.
Best halibut fishing in BC. Best bottom fishing on the West Coast.
Luxury accommodations. Best fishing lodge in BC.
Affordable fishing lodge. Salmon, Halibut charter West Coast of BC.
Big Chinook salmon guided fishing.
Salmon, Halibut, Ling Cod, Fishing processing on site. Vacuum packed, flash frozen.
Biggest salmon. Tyee fishing.
Best fishing spot in Vancouver Island.
Ling Cod Salmon Yellow Eye
BC salmon fishing resort. Bottom fishing, halibut, ling cod, rock cod.
Affordable salmon fishing.
Vancouver island halibut fishing
Affordable BC fishing lodge
First Nations owned Resort
Vancouver island fishing charter on the west coast
Salmon and Halibut fishing lodge
Recreational fishing, salmon, halibut, tuna